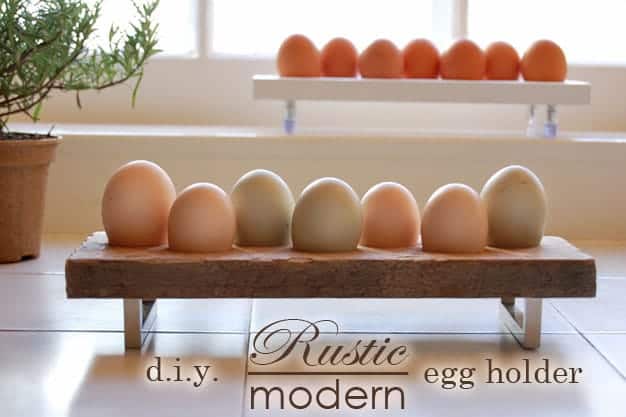 Materials and cost breakdown
Piece of worn wood – 5″ x 12″ apx.
2 cupboard handles  ($2 – $10 depending on what handles you use)  I used IkeaSätta handles and Ikea Metrik handles.
1 ½" hole saw or spade bit  ($8 – $16 depending on quality)
drill
Steps
1.  Get yourself some wood.  The size you use will dictate how many eggs it will hold.  I just used scrap wood I found around the house.
I cut my wood to 5″ x 12″.  This size will hold 7 eggs.
2.  Mark where you want to drill your holes.  I marked exact 1 ½" circles in a staggered pattern.
3.  Cut your holes with your hole saw or spade drill bit.  If you bought a cheap hole saw by hole #5 you'll be cursing it and its dull teeth.  Then you will have a snack to feel better and calm down before starting to drill again.
4.  Attach the cupboard  handles to the bottom of the board.   This will require you drill a hole through the top of the board so you can insert the screws.  If you don't want to see the screws from the top of your board, use a countersinking bit to countersink the screws.  Then fill the holes with a mix of sawdust from your drilling and Carpenter's Glue.  Proportions don't matter.  Just mix a whack of it all together until it forms a paste and shove it in the holes.
Once the fill has dried, lightly sand it to smooth it out and if you're using a painted wood board, repaint the top to further camouflage your holes.  Wow.  "To further camouflage your holes"  That sounded very formal and official didn't it?  I talk good.
If you want a sort of farmy, rustic chic look use sleek metal handles with barnboard like I did in the first photo.  If you want a more contemporary, clean look use straight cut wood.  A slice of a spruce 1 x 6 will do the trick.
And you could go nuts with the painting.  Doesn't have to be white you know.  Pink, orange, blue, black and white polkadot.  Whatever.
I swear to you, the fun doesn't end there.   Since making these wood doohickeys I've realized they're the most versatile, weird little things I've ever made.  I use them for EVERYTHING.
Case in point … those extra Christmas balls you have that you're completely sick of putting in bowls around the house?
Ta Da.
Need a cute little way to serve appetizers or snacks?
Ta Da.
These sized holes also are the perfect fit for … tea lights.
Ta Da.
No picture.  You're just gonna have to trust me on this one.
So.  It's true.  If you run out and make one of these things to keep or give away for Christmas you'll be giving the gift of a Rustic/Modern eggholder/ornament displayer/snack server/tealight holder.  Uh huh.
All for the low, low price of between $2.50 and $10.